Welcome to the website of the Symphonic Wind Orchestra of North London (SWON). We are a group of friendly, enthusiastic musicians based in East Finchley.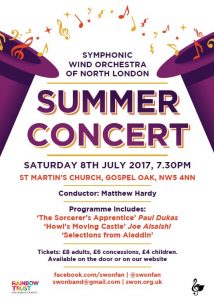 Click here to buy Summer Concert tickets!
We're looking forward to our summer concert, an enchanting night of magic, witchcraft and wizardry!
Come and join us for a special evening featuring classical favourites including including the ever-popular Sorcerer's Apprentice by Dukas, and selections from Tchaikovsky's Nutcracker. Modern magical music is also at the fore, with arrangements of the soundtracks to the animated films Aladdin and Howl's Moving Castle, alongside themes from Harry Potter and the West End hit musical Wicked.
We look forward to supporting our charity partner for 2017, the Rainbow Trust at this performance.